UPDATE: Officer with 2 identities banished from police force
The Arizona Republic
by Megan Boehnke
Jun. 23, 2009
A former Chandler police officer who exchanged more than 13,000 texts and calls with his alter ego surrendered his officer certification last week, almost a year after a criminal investigation uncovered bizarre story and led him to resign.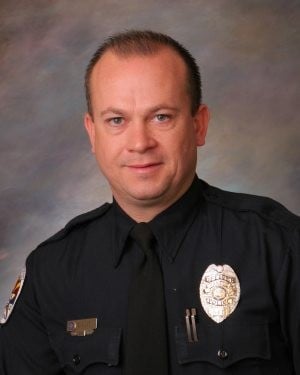 The Arizona Peace Officer Standards and Training Board voted to accept an agreement Bradley Allen signed in late April that relinquished his certification as a police officer and barred him from ever working as a cop in the state again. He served in the Chandler department for about 4½ years.
Chandler police followed a series of tall tales last summer that began with Allen reporting his car stolen and a man named David Fowler sending his girlfriend, Nicole Latone, a text suggesting that something might happen to his 1992 black Honda Accord.
The man, he told Nicole, was his ex-girlfriend's new beau and a man she cheated on him with leading to their split. Latone told police Fowler had been harassing her and Allen and sending her crude text messages suggesting that he was following her.
When detectives searched Fowler's phone records, they discovered he was using a prepaid phone that did not require a verification of the owner's identity because it was not a subscription. They couldn't come up with any other form of biographical information on Fowler, including a state license.
Allen told his fellow Chandler cops that he had never met Fowler, 38-year-old man with no middle name.
When officers interviewed the ex-girlfriend, Marcella Johnson, she said Allen ended their six-year relationship claiming she was cheating on him with Fowler, who was sending her and Allen text messages.
But when she hired two separate private investigators, George Eleftheriou of G.E. Investigations, LLC & Jack Westwood of Chippewa Investigations, both concluded Fowler didn't exist and was likely Allen acting out as the other man.
Police subpoenaed GPS coordinates for Fowler's phone and found that most of the texts were sent through cell towers closest to Allen's Chandler apartment, except for a series of calls in mid-July that came from California.
When police asked Latone, who was also starting to unravel the truth along with police, if Allen had been to California recently, she said no, but that she had and Allen gave her a cell phone to use when she got there.
She was given Fowler's phone, investigators told her.
She said whenever Allen received a text or call from Fowler it would be while he was out of the room and not in her presence.
Police confronted Allen, first at Dillard's where he was working extra duty as security, and later in an interview at the police station where they told him that they had GPS locations on the phone and asked him to call Fowler. He did in the interview but it rang and went to voicemail.
The detectives then told Allen they had no choice but to charge him with false reporting. He resigned from his post the next day, August 1, before an internal affairs investigation could be completed.
Direct Link: http://www.azcentral.com/news/articles/2009/06/23/20090623cr-bradleyallen0624.html#ixzz1fPrEy0DQ