Tale of a Chandler cop's secret alter ego
East Valley Tribune
Katie McDevitt
Posted: Friday, September 5, 2008
Updated: Fri Oct 7, 2011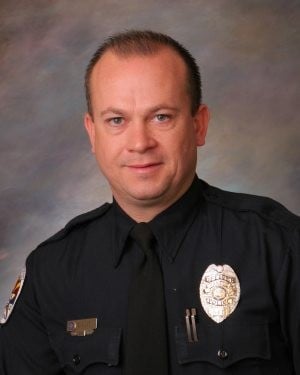 MAN OF MYSTERY: Former Chandler police officer Bradley Allen was arrested July 31 on suspicion of false reporting to law enforcement. He resigned Aug. 1 before Chandler police could conduct an internal investigation.
Marcella Johnson and Nicole Latone were haunted by a man they thought they never knew. David Fowler harassed them, made lewd comments and caused problems in both of their relationships. Neither woman had ever met Fowler. But they had dated a Chandler cop named Bradley Allen.
Allen was a hard-working officer and someone they cared for deeply – but as they'd later find out – he was also the dreaded David Fowler.
In a bizarre case of a man with two identities, a Chandler cop's secret alter ego led to his arrest and ultimately his resignation.
The unmasking of Fowler began, police reports say, on June 30 when Allen told police a tale about his car being stolen. But the investigation into the missing car soon morphed into a hunt for Fowler and the ultimate realization that Allen himself was the main suspect.
And it also revealed a disturbing fact – before the case was over, Allen would exchange more than 13,000 text messages with himself, texting between two phones he controlled, one as Allen, the other as Fowler.
Allen was arrested July 31 on suspicion of false reporting to law enforcement. He resigned Aug. 1 before Chandler police could conduct an internal investigation.
Allen couldn't be reached for comment, but a 21-page police report lays out the story of a troubled man, his alter ego Fowler, and the great lengths police believe one of their fellow officers went to hide his secret.
No one knows why Allen wanted to set up his former girlfriend as a suspect in a fake stolen car case. But he walked into a detective's office on July 9 and claimed that Johnson was involved in the crime, and that Fowler had tipped him off.
Detectives met with Johnson and she told police she didn't take Allen's car or know who would have.
She did, however, know another detail that shocked investigators.
"I asked her if she knew a male subject by the name of David Fowler," Detective David Bugallo wrote in a police report, "she told me David Fowler didn't exist."
He's a fictional person, she said. Allen made him up.
Johnson, who couldn't be reached for this story, told detectives she had hired a private investigation firm to figure out who Fowler was and that two different investigators, George Eleftheriou of G.E. Investigations, LLC & Jack Westwood of Chippewa Investigations, confirmed not only that he didn't exist, but that Fowler was Allen.
Not long after that, investigators found there was another woman. Nicole Latone was dating Allen and had received two mysterious text messages from a man who said he was Fowler. She was confused about why Fowler had messaged her.
Fowler is the "key to unlocking the truth in what was going on," Bugallo said to Latone. He told her that the only person Fowler seemed to know was Allen.
"She told me that Marcella was having her (Latone) and Brad followed," Bugallo, who wouldn't agree to an interview, said in the report. "I asked how she knew they were being followed (and) she said that David Fowler knew everywhere they had been and even described the clothes she had been wearing on some of the occasions."
Investigators sifted through phone records from Fowler and Allen and looked at surveillance photos from a store where Fowler's pay-as-you-go phone was topped-up.
They saw Latone had been buying Allen the "Top-up" cards to add more minutes to the phone, so police asked her how often she bought the cards for Allen and why. She told detectives she had bought them more than 10 times and that Allen used a regular cell phone and a secret cell phone.
"Nicole then went silent and she said to me, 'Brad is David Fowler isn't he,'" Bugallo wrote. "I told her that I was sorry to be giving her such bad news, but we now felt that Brad was in fact David Fowler."
Latone didn't return a request for comment at an address listed as her home. But the police report said she was "shocked." She thought about it a moment. Allen had never received a text from Fowler when she was with him.
He would always leave the room for a few seconds then come back and tell her that he had just gotten a message from Fowler.
Sometimes, he'd show her his phone and say, "Guess who called, it's David."
On July 30, police got a search warrant to access GPS data on Fowler's phone. They discovered that the phone had either been destroyed or the battery had been removed.
From April to July, Fowler had sent 3,627 text messages to Allen, and Allen had sent 3,682 messages to Fowler.
Police collected more GPS data on the phone and found that the Fowler phone had transmitted most of its text messages through the tower closest to Allen's apartment.
Investigators decided it was time to confront Allen.
They were at a "stalemate" in the investigation and if Allen could give them Fowler "this whole situation would go away."
Allen insisted that he'd never met Fowler and only talked to him once, aside from text messages. So that's when they let Allen in on what they knew – they'd tracked GPS data on his phones, found records of his text messages and looked at video surveillance tapes.
"Brad started to sweat and went pale," Bugallo wrote.
"You know what, I'm done talking," Allen replied.
That, police said, left them with no option but to arrest him. Allen clammed up.
Now, his case is sitting at the Chandler City Prosecutor's Office.
Chandler police are recommending Allen be charged with false reporting to law enforcement, the report says, but no charges have been filed yet. The Chandler City Prosecutor's Office says the case is "under review."
On paper, Allen appears to have been an exemplary officer. His personnel file includes satisfactory and above average ratings as a law enforcement officer.
He was once investigated on suspicion of disorderly conduct related to domestic violence during his relationship with Johnson, but was never charged and never punished.
But despite Allen's alter ego and tumultuous relationships, Chandler police say there's no reason to think his personal behavior spilled over into his police work.
Chandler police spokesman Sgt. Rick Griner said "there was nothing out of the ordinary with his cases," and that the department won't be reviewing Allen's cases unless someone comes forward with concerns.
"Unless we had some kind of complaint, I don't know what we would look for," Griner said
Direct Link: http://www.eastvalleytribune.com/news/article_03703473-a47a-5d24-987b-430ae96c25d7.html